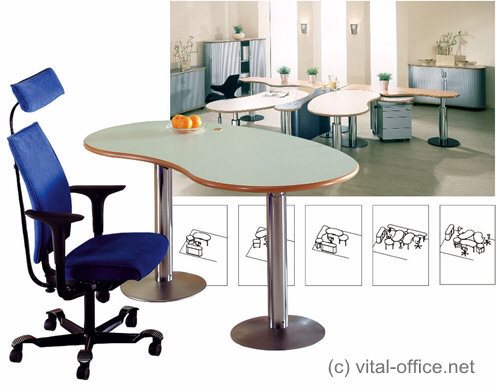 Variation c-style
Desks with column bases offer more stability and more space underneath the desktop. Also available in motorized stand-up version.
The c-style legs are developed especially for Vital-Office desk tops. They underline the round shapes and lead to a unique design.
The c-style legs are available in 3 different variations:
Columns which are manually height adjustable from 680-820mm, with a column diameter of 120mm. Either in polished chrome, brushed chrome
Aluminum columns which are not adjustable in standard height of 720mm. Other individual heights are possible upon request.
2-times telescopic Aluminum columns which are motorized adjustable from 630-1435mm. This is the highest possible range for adjustable desks.
The steel base plates are either coated in silver or black.
S-Class executive desk
Combined with a molded front protection the c-style desk evolves to a representative desk for executives or reception areas.
The molded protection is available in laminate, linoleum or veneer.
Elegant cable management
Also included with the molded protection is a completely covered cable tray and an elegant cable duct in table-top's material.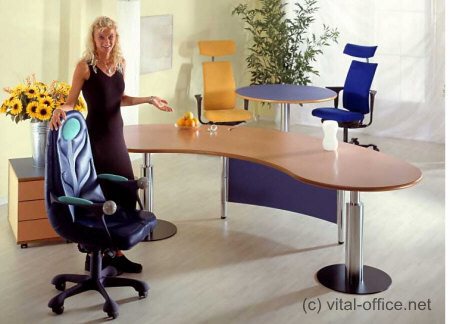 S-Class executive desk
Example of an executive desk with top in Swiss Pear wood, chrome bases and blue protection.