Conference tables for all needs
Vital Office unites elegance, ergonomics, good Design and flexibility
The Vital Office group presents its new and extensive offer of meeting, conference and boardroom tables. With the product line "circon executive ", "infinity Design "and "bicon7 concept " different series are available, in order to plan the perfect conference table for each application.
Representative elegance comes to each conference room furnished with circon executive conference product line of Vital Office. Size, form and material composition are planned according to customer's request and adapted optimally to the given situation. So elliptical, oval or boat formed tables with elliptical bases in chrome, aluminum-groove or individually lacquered. Arbitrary table sizes are feasible. The project Oval Office in Hamburg is furnished with an oval board room table of 11.6 meter length in Swiss pear tree for 38 persons.
Media integration
in co-operation with competent system partners Vital Office offers aesthetically in the table integrated medium controls. With a few steps a Notebook conference system becomes alive: Notebooks attached… push button, completed.
Barrier-free, flexible and stable…
also the conference and meeting tables from line infinity design are available in approximately all forms and sizes. Characteristic column bases provide more free space for legs. With the extended infinity design varitable concept one can arrange arbitrary conference plants by arranging different tables. Since no firm grid from outside bases is given, one can add at further chairs.
About Vital Office GmbH:
Located in Germany the Vital-Office production facilities represent the traditional "Made in Germany" quality of exceptional craftsmanship. Their technically advanced machinery guarantee superior manufacturing, assuring quick and efficient delivery. Excellently crafted, superior wood veneers and durable lacquer finishes have been especially developed for use in the professional office environment. From drawing to production: Modern technology guaranties cost-efficient manufacturing even with a low lot project.
Sustainability:
Always in keeping with new standards of technology we work with solvents free of harmful chemicals and UV-hardening, water-based lacquers. When it comes to surface finishing, we are a step ahead. Protecting our environment from hazardous chemical emissions is naturally a concern of ours. More information at www.vital-office.net
Press release
High resolution images to download: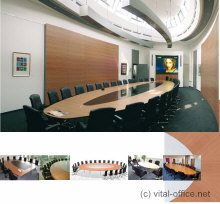 Vital Office conference tables unite elegance and functionality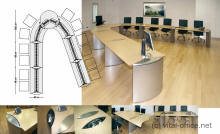 Flexi conference for exclusive training rooms with media and power outlets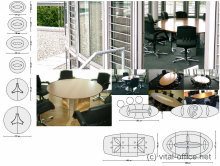 The Circon Executive product line features Management Level conference table systems in all sizes and many forms which include built-in media centers.
COPYRIGHT:
Please acknowledge that all material, text, images and media is copyright protected. Generally you are not allowed to use any material or portions of it without our written acknowledgement.
We grant a temporary allowance to use our material shown on this website for print press publications and your own presentations under the following conditions:
The Vital-Office Logo and the copyright statement © Vital-Office is easily seen and related to our material on ALL pages derived from our material.
The material is used to positively promote our services and product.
You send us a copy or link of the documents in which you used our material.
It is not allowed to publish our material on other internet pages without written acknowledgement.
(This is especially important, while Google and other search engines detect duplicate text and BOTH internet pages will rank less.)
We keep the right to withdraw this allowance at any time.
If you are not sure, please contact us by E-Mail: info@vital-office.net
Vital-Office GmbH, Peter Jordan
Phone.: +49 7248 935 6690
Fax: +49 7248 935 6697
E-Mail: info@vital-office.net