flexiconference
your event space optimized
With Vital-Office flexiconference you can rearrange your conference room or training center very easily. According to the situation needed the system enables you to make arrangements for every requirement.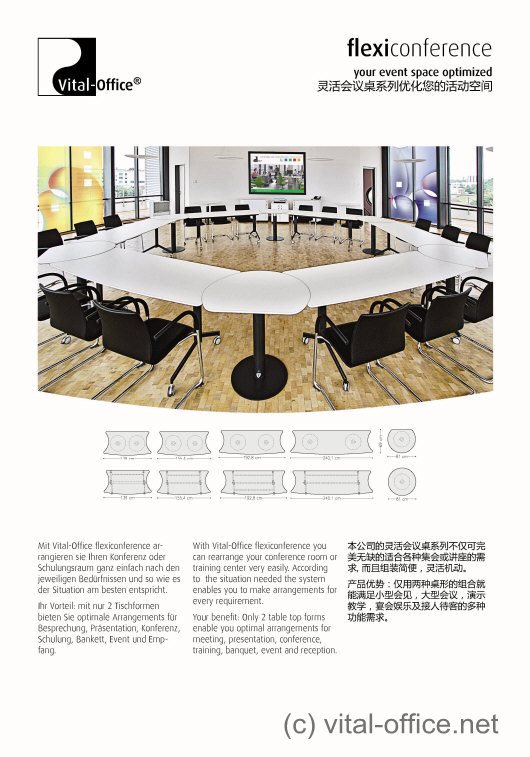 A living event space which adapts to every requirement
V-shape, U-shape, circle or row. With Vital-Office® flexiconference you arrange your event space according to your needs.
Your benefit: Only 2 table top forms enable you optimal arrangements for meeting, presentation, conference, training, banquet, event and reception.
Serial Network Connection
Flexible presentations: In a meeting you need to contribute something you have on your notebook. No Problem. With UTS1 Serial Network your notebook screen is mirrored on the projector in superior quality. Even video clips in Full HD are streamed without even the slightest interruption.
All this is possible through a special technique, which connects up to 64 tables with only a patch cable. The features are
3-cable connection: 1 for Video and sound, 1 for LAN and one Power cord.
up to 64 units in row
Each unit is for 2 users
Real time data transfer (no streaming)
Switch between users through button or touch panel
Automatic renumbering. Just connect the units hazardously
UTS_1 is a hardware solution and not dependent on any software system.
Upgradable OSD management and multi-layered security system.
Low noise CAT5 cables are sufficient for all tasks.